meet the Co-ConSPIRITors of The Whisky Cabinet
Art McIntosh (AKA: Dentin MacStill)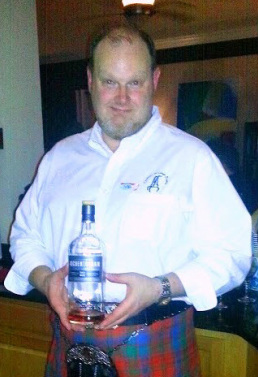 Art is the founder and the Cabinet's most experienced malt whisky sommelier. Art's extensive and comprehensive knowledge of Scottish single malt whiskies, whisky history, and many useless bits of whisky information, is an asset to the club and it's members. With much arm twisting, Art agreed to take his small 4 or 5 person tasting sessions out of his living room, and expand to a more elaborate whisky show for larger crowds and bigger venues.

Art's motivation for creating the club was to introduce his friends to rare, new and exciting malt whiskies. His love for single malts, the history and details, is evident in each presentation. He still finds great joy in researching and selecting the next group of exceptional whiskies for each tasting. He especially likes sampling these selections before each tasting; just to ensure that they meet the standards of the demanding Cabinet members... Well, somebody has to do it!

Art is descended from Scottish ancestry, and a Scottish-American Revolutionary war officer. He is also a convener for Clan Mackintosh of North America and a member of the New World Celts Orlando Chapter.


Favorite Whisky - Bruichladdich, Moine Mhor 3D second edition
Favorite Distillery - Sooo Many!! Bruichladdich and Dalmore, ... and Glen Ord, ... and Jura, and Strathisla, and....
Favorite Movie - Whisky Galore!
Favorite TV show - Hamish MacBeth w/ Robert Carlyle
Favorite vacation destination - any distillery in "Scotchland"

---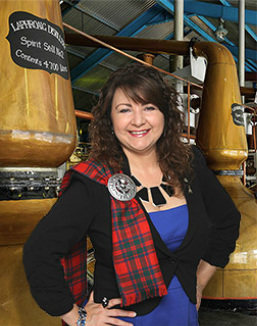 Michelle Morneault
(Fifi Laphroaig)

Michelle brings a wealth of experience, knowledge, ideas and a certain "Je ne sais quoi", in all aspects of the Cabinets functions. Michelle has been involved since day one. Her enthusiasm for great single malt whiskies is evident in her presentation work and her eagerness to taste and discuss them at any time.

Although Michelle has been assisting the club in various ways since its beginning, she was invited to become a partner in The Whisky Cabinet in April of 2013. After one whole second of deliberating, and several whisky bribes, she wholeheartedly accepted the role of Co-ConSPIRITor.

Michelle's heritage of French, Scottish and Irish precludes her to a fondness of strong drink. Her attention to detail finds her researching the origins and craft for making different distillations, whether they be single malts, bourbons or others. Her love of single malt scotch in particular began in 2000, while living in Boston, with her very first sip of Laphroaig, Her knowledge and enthusiasm has vastly expanded since that day, and yet she retains her first love...Laphroaig.
Michelle is currently the President of the New World Celts, Orlando Chapter, and has been "adopted" into many clans. Her mission is to unite the clans one dram at a time.

Favorite Whisky - Currently Laphroaig Cairdeas
Favorite Distillery - Kilchoman, Islay Scotland
Favorite Movie - Oh Brother Where Art Thou
Favorite TV show - Orphan Black
Favorite vacation destination - any distillery on Islay Scotland
---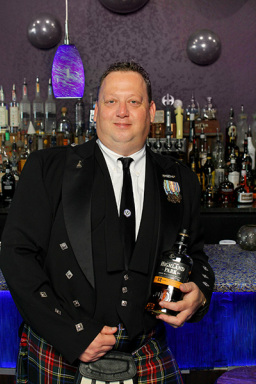 William "Billy" Rivers
(Whisky Rivers)

Billy started out as one of The Whisky Cabinet pipers from its inception. As the Cabinet grew, so did his involvement bringing with him over 30 years of experience in the entertainment industry, and his love of Islay Scotch. Since then his involvement has expanded into research, production and presentations. He is always there to assist in tasting various whiskies, whether invited or not, and his unique ability to pinpoint unusual flavors has been a valuable resource.


Favorite Whisky: Ardbeg Airigh Nam Beist
Favorite Distillery: ARDBEG / All Islay
Favorite Movie: Band of Brothers
Favorite TV Shows: Vikings/Game of Thrones
Favorite Vacation Destination: New Hampshire

---